Minimum browser requirements Internet Explorer 8, FireFox 4.0, Chrome, or Safari.
Unknown 0.0 is currently not supported.
Learn More...
Achieve workplace health and safety success with tools, guidance and expertise delivered by UL
Workplace health and safety doesn't cost. It pays. Through transforming your workplace into a culture of safety where learning is valued above training, your organization can achieve: increased productivity, a better informed and prepared workforce and fewer accidents and injuries. Trust UL, a global leader in safety with a history of keeping people safe for over 100 years.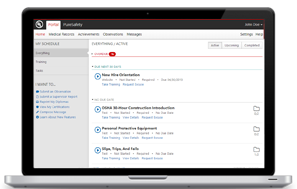 Messages
We're pleased to announce that the latest release, PureSafety 7.2, became available on March 14, 2015. We listened to your feedback and made some updates to the product. Here are the top enhancements that you can look forward to with this new release:
You can now

allow your trainees to take tests using mobile devices

in order to reduce paperwork for training administrators when training in a classroom setting.

Employees can also use mobile devices to access standard operating procedures and other checklists built as tests in the PureSafety system and walk through

them step by step at the moment of need.

S

upervisors and safety team members using the Incident Management System (IMS) module of PureSafety can

report on incidents and injuries by employee's location or job function at the time of the incident.

Employees have more flexibility for completing larger audits and can now

complete recurring tasks even after the next occurrence has started

.
For more information about these enhancements and other updates in this release, please refer to the PureSafety 7.2 Release Notes available on the Customer Resource Center. If you're not registered on the CRC, we encourage you to sign up to access user guides, release notes, and other PureSafety resources.
Need additional help navigating the release enhancements? Contact PureSafety Support at puresafetysupport@ul.com or 888-202-3018.
---